The most recent member of Containerships' LNG truck fleet is IVECO Stralis NP 460 6×2, a tractor particularly designed to be the most sustainable heavy truck for over 42-tonne operations. The newcomer is an essential part of company's development strategy regarding the LNG-investments on road.
Being the first three-axle tractor in world to operate fully on liquefied natural gas, the IVECO Stralis NP is also a reliable and efficient option for Containerships' business model. With size-optimized LNG tanks mounted either side of the chassis, the vehicle offers a range of 750 kilometres – 300 kilometres more than the previous models. Larger range offers operational efficiency and ensures reliable and eco-friendly door-to-door delivery to our customers.
Containerships is constantly investigating options to implement LNG-fuelled land transportation on its operational area. Key is the refuelling network.
"Containerships' developments on LNG-fuelled road transportation lean strongly on the local refuelling infrastructure. During the last years, we have been glad to witness a positive progress in the refuelling network in Finland", says Janne Ritakoski, Containerships' Head of Land Operations. "Our plan in Finland is to further grow the LNG-fuelled truck fleet already this year".
Use of LNG in trucks delivers significant positive improvements on air quality. Its proven technology offers a 99 % reduction in particulate matter emissions (PM), and a 60 % reduction in Nitrogen emissions (NOx) compared to Euro 6 Diesel trucks. In addition, it offers a 25 % reduction in CO2 emissions, fulfilling the latest proposed EU legislation of 20% CO2 emission reduction from trucks by 2025.
"The demand for more sustainable transport solutions is growing, and not only on a political level", explains Janne Ritakoski. "Feedback from our customers is clear: to reduce its ecological footprint, company needs also more sustainable supply chain solutions. Containerships' objective is to help our customers to fulfil their ambitious targets regarding sustainability".
Currently, Containerships operates almost 60 LNG-fuelled trucks in the UK, Netherlands and Finland.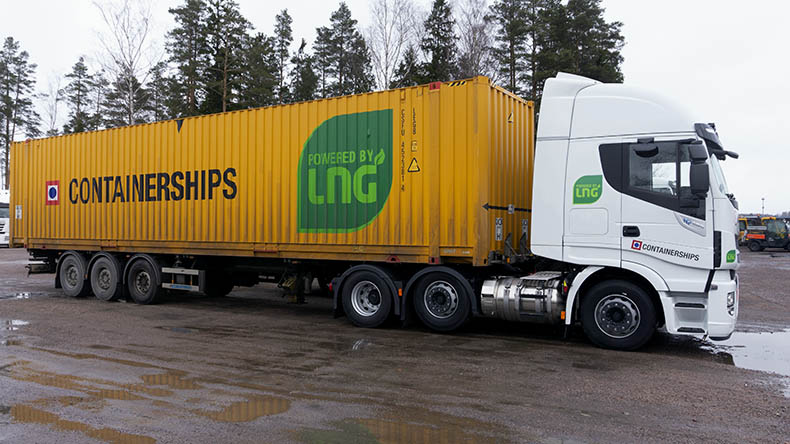 New IVECO Stralis NP joined Containerships' truck fleet on 28th February 2019.